The Origins of the Hairy Execution Plan Contest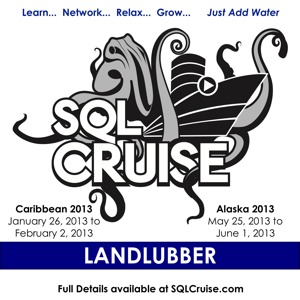 SQL Sentry and SQL Cruise are bringing back the Hairy Execution Plan Contest again for our next round of SQL Cruises and those Landlubbers who are not able to join us on the SQL Cruise are now able to play at home as well.  Some of you new to SQL Cruise news may not be quite sure about what a "Hairy Execution Plan" Contest is though.  It's based upon something that is not nearly as pretty as SQL Cruise, SQL Sentry Plan Explorer, or most things for that matter.
Those of you who have experienced the uniquely American concept of the College Spring Break know what we're talking about.
The Hairy Back Contest
Yes, the phrase that strikes fear and revulsion into the hearts and minds of any woman and most men who have seen the sights of large, hairy men slathered with cheap suntan oil and placed on display for all to see.  They then cap off the least attractive of any runway walk with a cannonball dive into a pool.
Hairiest Man wins.
Unfortunately (or fortunately) until genetics change or Wookiees find their way into our singles bars and online dating services these Hairy Back Contests, while open to all genders are generally dominated by one.
Our take on the Hairy Back Contest is far more civilized, has been evenly won by all genders, and can be accomplished without the need to grease-up or get wet (though each SQL Professional has their own way of getting through the day.)
The On-Board Edition Rules
Those who have attended one of our SQL Cruises already know how this works and the rules are quite simple:
Download the FREE SQL Sentry Plan Explorer Tool from SQL Sentry.  Did I say free?  I certainly did. 

SQL Sentry Plan Explorer

is SQL Sentry's free application that takes the conventional native graphical execution plans that are available inside Microsoft SQL Server Management Studio and turns them on the heads.  The readability of the graphic are much improved and you can sort the operations by many different factors – cost, CPU, memory consumption and more.
Use

SQL Sentry Plan Explorer

to capture the graphical execution plan from the nastiest of all your Microsoft SQL Server queries.  If you're not sure of what is your nastiest query I highly recommend using the Dynamic Management Objects – specifically sys.dm_exec_query_stats.
Save the query plan from

SQL Sentry Plan Explorer

as a .sqlplan file and submit your entry via attachment in an email directed to

sqlcruise@sqlsentry.net

.  Be sure to include your Full Name and Company Name in the email.  Submitting an entry implicitly allows SQL Sentry and SQL Cruise to use your name, twitter handle and your company's name in promotion of this event.  If you prefer to not expose your company name please simply state that in your email.  Only the graphical execution plan will be presented by SQL Sentry in the announcements of submission and the winner  – end user data is not exposed in this process.  Also, your contact information will not be shared with other entities.
Submissions are due before we board SQL Cruise Caribbean 2013.  This means midnight, 1/25/2013 Eastern Timezone.
Your submission will be judged by Tim Ford of B-Side Consulting/SQL Cruise and Kevin Kline of SQL Sentry aboard the SQL Cruise; likely while sipping cool drinks in the warm sun.  (Yes we're rubbing it in because if you really wanted to participate there are still a few seats available aboard SQL Cruise Caribbean 2013.)
SQL Sentry and SQL Cruise will present the top contenders for Hairiest Landlubber Execution Plan once we return from SQL Cruise Caribbean 2013 and will announce the winner on February 7, 2013 here on SQLCruise.com.
The Fabulous Prize – For the Landlubber Edition
The declared winner will receive a single seat license of Plan Explorer Pro!  This license prize has a $295 retail value.  While the free version is great, the Pro version takes that greatness to a new level.  Pro Version features include:
A Multi-Tab Interface
Wait Statistics Information
Full Query Call Stack
Open *.xdl Deadlock Files
Full details on these features are available at the SQL Server Plan Explorer website.
The Fabulous Prize – For Those Attending SQL Cruise Caribbean
As if the sun, free SQL Server consulting by leaders in the industry, relaxation, in-depth SQL and Powershell training, and networking wasn't enough incentive to come on SQL Cruise, SQL Sentry is making it even better.  Those attending SQL Cruise who submit a Hairy Execution Plan will have a chance at winning a license of their Power Suite with Fragmentation Manager.  But don't take it from me, here is what Nick Harshbarger, Vice President of Sales and Marketing at SQL Sentry has to say:
SQL Sentry is providing a full license of SQL Sentry Power Suite as the contest prize.  The Power Suite bundles together their two award-wining software tools Performance Advisor® and Event Manager® into a revolutionary performance monitoring and tuning tool for Microsoft SQL Server 2000, 2005, 2008 and 2012. The software provides unparalleled insight, awareness and control over the true source of SQL Server performance issues. Plus SQL Sentry is including their newest product – Fragmentation Manager, which provides fully integrated point-and-click SQL Server defragmentation. Fragmentation Manager helps you to make good decisions about how and when to defragment, and then defrags indexes faster than ever before via support for multiple concurrent operations. This license prize has a $3,300 retail value.
So, sun, sand, SQL, free consulting, training and at least a 1-in-15 chance of winning a software package for troubleshooting SQL performance valued at $3,300.00.  Why aren't you going on SQL Cruise?