Join Us for Our 8th SQL Cruise
We will be returning to the Caribbean in 2014 for our 8th SQL Cruise. Join us January 25th in Miami, Florida as we embark once again on what we feel is the best training option available for your SQL Server Professional.  Don't believe us?  Then take the word from our former Cruisers and Technical Leads!
Our Cruising Itinerary for SQL Cruise 2014
Miami and the Eastern Caribbean – January 25, 2014 – February 2, 2014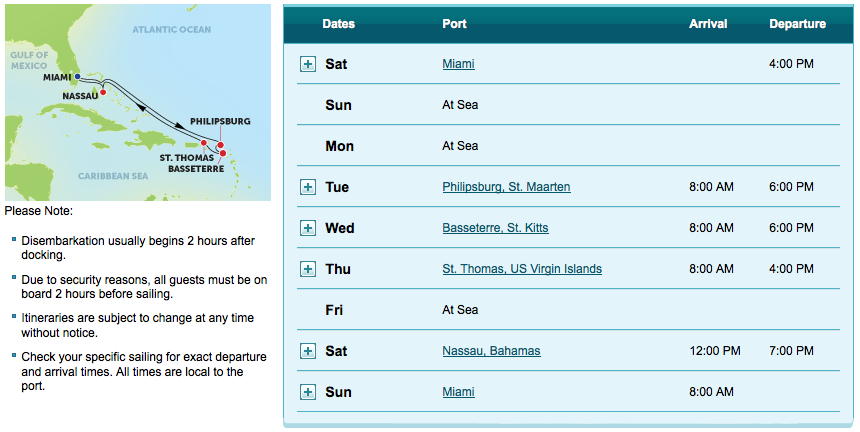 *There will be a SQL Cruise / South Florida SQL Tweetup event the night prior to the Alaska sailing. It is strongly encouraged for you to attend this initial event.  Please take this into consideration when booking travel arrangements to Miami.

SQL Cruise 2014 Training Lineup and Technical Lead Information Coming Soon
Not only is our itinerary shifting in 2014, the training will be entirely new too!  The call for abstracts will be opening soon.  Until then, please be sure to visit our Training page to get full details on the workshops and sessions being offered for our 2013 SQL Cruises. Detailed bios of our 2013 Technical Leads as well as links and certification information for each of these Experts are available on our Trainers page.
SQL Cruise 2013/2014 Registration Details
Cost for SQL Cruise registration for the 2013 and 2014 events is $1395.00 USD.
Stateroom cost are additional and instructions for booking those through our dedicated NCL Cruise Consultant are located on the SQL Cruise Registration Page. All stateroom bookings must be done through this process. Staterooms range in cost for these cruises from between $899.00 and up based upon double occupancy  (with the exception of the Caribbean cruises which do offer single occupancy studio staterooms.)
Please visit the SQL Cruise Registration Page for complete details and follow SQL Cruise on Twitter as @SQLCruise for news and updates on our training events.
We are looking forward to seeing you aboard the SQL Cruise!